Nick is currently studying at Charles Sturt University completing a Bachelor of Applied Wine Science. Since 2004, Nick has worked full time in the wine industry and has used the knowledge and experience gained to create Left of Centre Wines. 
Nick started out as a cellar hand, working for Peter Lehmann wines in the Barossa Valley. After 5 years in the Barossa Valley, it was time for a change. Nick moved to the Hunter Valley with his now wife Sarah, taking up a role at Tower Estate as a trainee winemaker. In 2010 Nick moved to McWilliams Mount Pleasant and completed two vintages, one in the Hunter and the other in the Coonawarra working for Brands Laira. Nick currently works as the Assistant Winemaker for Gundog Estate.
In 2013 Left of Centre Wines was born, with assistance from his current employer. Left of Centre Wines is crafting Hunter Valley Chardonnay and Shiraz, we hope you enjoy the journey.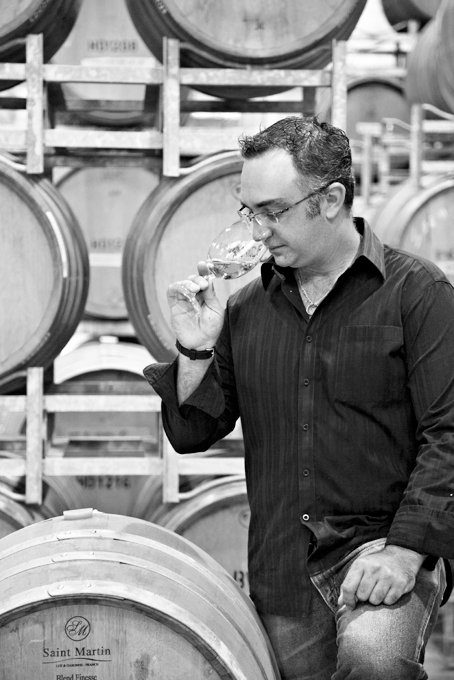 Sarah started in the wine industry straight out of high school, her first vintage was in 1996 at Parker Wines (now Bimbadgen Estate). From there, she worked another lower Hunter vintage before heading to Arrowfield in the upper Hunter for a few years as a cellar hand. After 3 years the lure of Sydney took Sarah to the online wine world with Wine Planet and Vintage Cellars. A calling back to the cellar saw Sarah head to South Australia and complete vintages at Langhorne Creek Winery and Wirra Wirra in Mclaren Vale, Premium Wine Bottlers in the Barossa Valley, Jeffrey Grosset in the Clare Valley and her final South Australian vintage with Grant Burge Wines.
Sarah left the industry for two years to study Remedial Massage before returning to the Hunter Valley. Back there, Sarah worked cellar door sales for Audrey Wilkinson Vineyard before the final vintage call in 2010. Now half way through a BA in Health Science, Food and Nutrition, she watches over Left of Centre Wines with Nick, but this time round she's out in the vineyard picking rather than in the cellar or behind the scenes directing traffic.